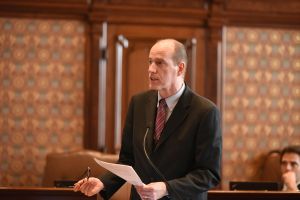 SPRINGFIELD—Higher education administrators will no longer be able to claim country club memberships as a part of their pensionable income thanks to a proposal pushed by Senator Bill Cunningham becoming law today.
Senate Bill 2156 was one several new laws authored by Cunningham this year aimed at limiting perks for public college and university presidents in Illinois. The legislation was sparked by a scandal at the College of DuPage, where the president received a $750,000 severance package just to leave the college.
"Colleges and universities presidents often receive fringe benefits like housing allowances and country club memberships as part of their compensation packages," Cunningham said. "Under the current law, those individuals can receive pension credit for the cash value of those perks. With the state struggling to afford the pensions of rank-and-file employees, allowing high-salaried administrators to spike their pensions in this matter is totally unacceptable. SB 2156 will end this abusive practice."
Senator Cunningham represents portions of Worth, Orland and Palos Townships in the southwest suburbs and the neighborhoods of Mt. Greenwood, Beverly, Morgan Park and Auburn-Gresham in Chicago.