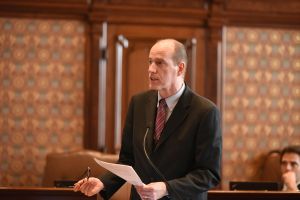 SPRINGFIELD – Senator Bill Cunningham voted to override the governor's veto of Senate Bill 2822, legislation designed to provide equal funding to the Chicago Public Schools teachers' pension fund.
"Governor Rauner refuses to provide the same level of state financial support to Chicago Public Schools that is provided to every other school district in the state," Cunningham said. "If his veto stands, CPS will be forced to lay off teachers and Chicago's students will be forced to pay the price."
Senate Bill 2822 would provide pension parity between the Chicago Public Schools and every other school system throughout the state. Currently, the state only picks up a small percentage of CPS' pension payment, while paying the full cost for all other school districts.
"We need to support all public school systems throughout the state and that includes Chicago Public Schools," Cunningham said.
The Senate voted to override the governor's veto and the legislation now moves to the House for further consideration.