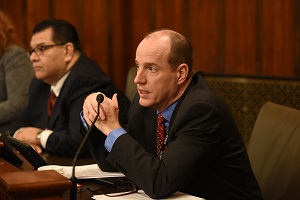 SPRINGFIELD – On Tuesday, the Senate Higher Education Committee heard testimony on the governor's budget proposal for the next fiscal year. The testimony showed that higher education has been irreparably damaged because of the budget impasse.
"Universities and community colleges have been cut to the bone because of the games being played in Springfield," State Senator Bill Cunningham (D-Chicago) said. "Yet the governor blocked the so-called grand bargain legislation that would have paved a path for a balanced budget."
When asked what universities could afford to cut, many universities said there is nothing left. If the governor's proposal for fiscal year 2018 is realized, state universities will have seen a 42 percent cut to their funding since 2015, when the governor took office.
"We need a budget that properly funds higher education so that we can start to repair the damage done by the governor's failure to propose a balanced budget," Cunningham said.