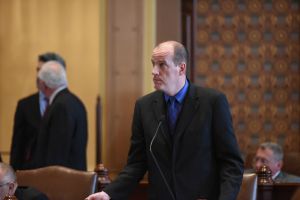 SPRINGFIELD— On Thursday, State Senator Bill Cunningham joined a bipartisan group of senators to pass legislation that would raise the investment the state makes in elementary and secondary education by more than $6 million for the southwest suburbs school districts he represents.
It would also send stopgap funding to institutions of higher education and human service providers throughout the 18th District.
"Illinois has very big problems, and we need bipartisan solutions. I am glad that we were able to come together and agree that investing in primary, secondary and higher education needs to be a top priority," Cunningham said. "This is a start to ensuring that we can get Illinois back on the correct fiscal path."
Senate Bill 2047 would provide a stopgap budget for the state for the first half of FY 2017.
The legislation also would ensure that state-funded road construction continues throughout the next year.