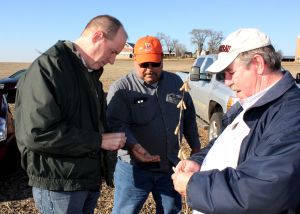 SPRINGFIELD—Students looking to get into agriculture could be without the necessary educational opportunities to spring them forward in the industry.
In the most recent budget proposal from the governor's office, agriculture education in Illinois is set to be cut completely out of the budget. In past years, agriculture education has received nearly $2 million.
Senator Bill Cunningham has proposed legislation that puts a priority on agriculture education instead of slashing it to zero.
"We need to be prioritizing the industries that make Illinois great. Agriculture is one of those industries," said Senator Cunningham. "We need to continue to invest in agriculture education, not just end it."
A recent report from the U.S. Department of Agriculture stated that in the coming years there will be about 60,000 new ag-related jobs. Yet only about sixty-one percent will be filled with qualified graduates.
Senator Cunningham proposed Senate Bill 2975, which would also put a priority on training and preparing the next generation of agriculture education teachers. The legislation recently was assigned to the Senate Education Committee.
"I have a high school in my district that emphasizes the importance of agriculture to students in Chicago. Now is not the time to quit emphasizing that importance," Cunningham said.
Last fiscal year the Chicago High School for Agricultural Sciences received $12,000 from the state for ag education. Now the governor is proposing the school absorbs the loss of funding, while Chicago Public Schools is set to lose $78 million in state support this fiscal year.