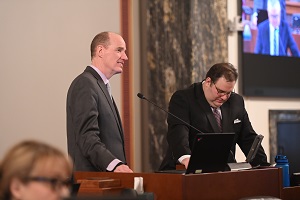 SPRINGFIELD – State Senator Bill Cunningham advanced a measure through the Senate Executive Committee which aims to provide mental health support and education for law enforcement officers who are facing post-traumatic stress disorder.
"We owe it to our law enforcement officers to provide them with the support and resources they need to manage their mental health, especially in light of the demanding nature of their work," said Cunningham, a Democrat who represents portions of Chicago and the Southwest Suburbs. "This legislation creates a supportive resource for officers seeking help after specific traumatic situations and for PTSD."
The Statewide PTSD Mental Health Coordinator will be appointed by the governor and serve for a term of four years. The coordinator will be responsible for providing resources, information, and assistance to law enforcement officers who may be experiencing PTSD symptoms or other mental health issues related to their work.
Senate Bill 1543 is an initiative of the Illinois Fire and Police Commissioners Association, who have found that 47% of law enforcement officers screen positive for PTSD, which is ten times greater than the general population. The bill is not intended to mandate that local police departments implement a plan to address PTSD or a set of requirements for how to operate mental health and wellness plans within their department, but rather to provide a supportive resource that departments and individual officers can turn to when seeking help.
"This is about helping our law enforcement officers manage their mental health, so they can continue to serve and protect our communities effectively," said Cunningham.
Senate Bill 1543 advanced through the Senate Executive Committee on Wednesday and awaits further action in the Senate.