Coffee and Conversations

Saturday, September 9
Dunkin' Donuts
3206 W. 111th Street, Chicago
8:00 a.m. to 9:00 a.m.
19th Ward Shredding Event

Saturday, September 9
Crosswinds Church
10835 S. Pulaksi Rd., Chicago
9:00 a.m. to 11 a.m.
Meet and Greet
Wednesday, September 13
Green Hills Library
10331 Interlochen Dr., Palos Hills
7 p.m.
Orland Hills Shredding Event
Saturday, September 16
Orland Hills Public Works Deptartment
16533 S. 94th Ave., Orland Hills
9:00 a.m. to Noon
**2 box limit per vehicle**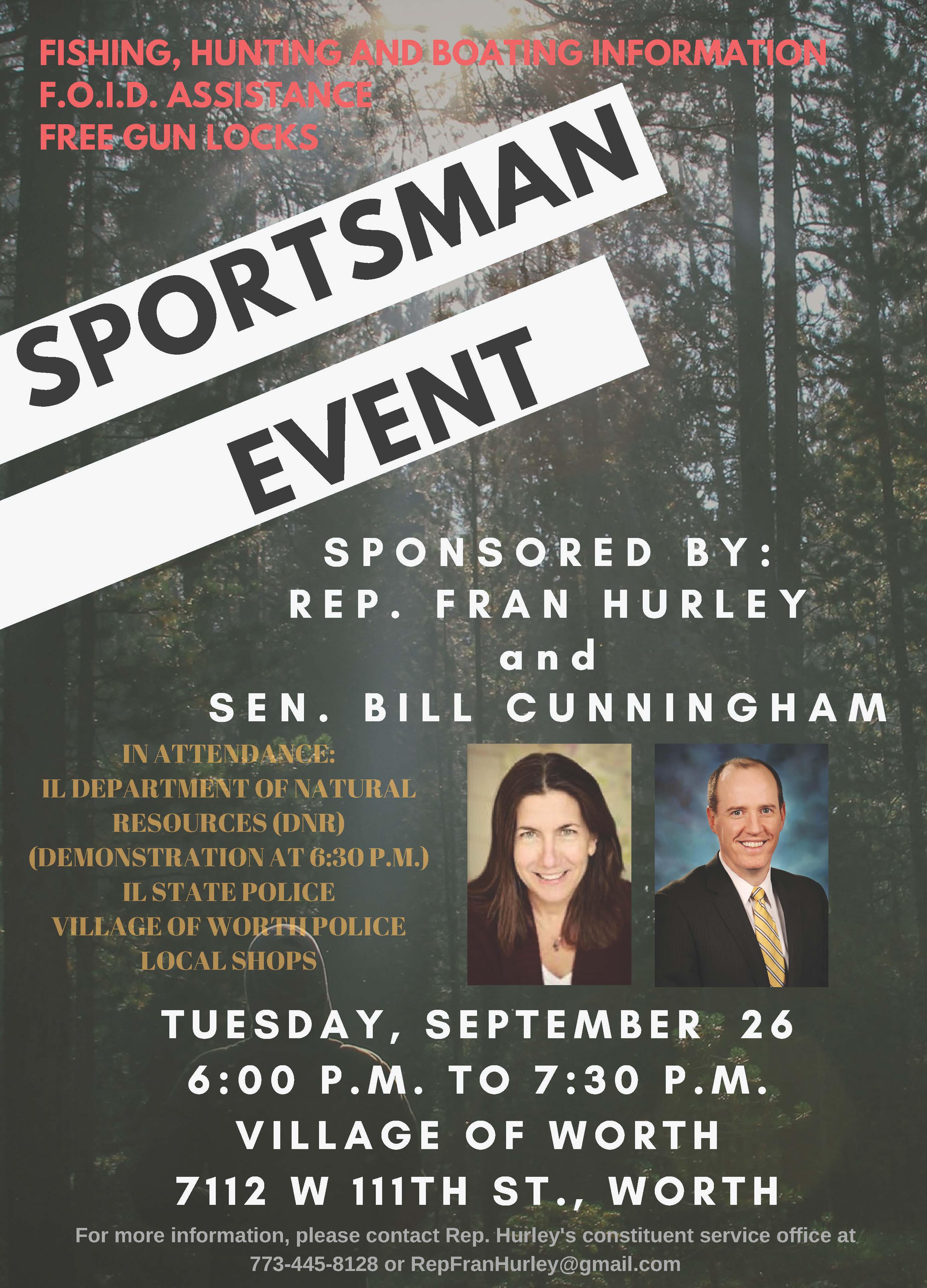 Sportsman Event
Tuesday, September 26
Village of Worth
7112 W. 111th St., Worth
6:00 p.m. to 7:00 p.m.
For more information, click the flyer.
Community Shred Day
Saturday, September 30
Palos Hills Recreation Area
8455 W. 103rd St., Palos Hills
10 a.m. to 1 p.m.
**2 box limit per vehicle**
Extended Office Hours

Senator Bill Cunningham and Representative Fran Hurley offer extended office hours from 5:00 pm to 7:00 pm on the second monday of the month. The location and date information is below.
Monday, September 11
Mt. Greenwood Office
3207 111th Street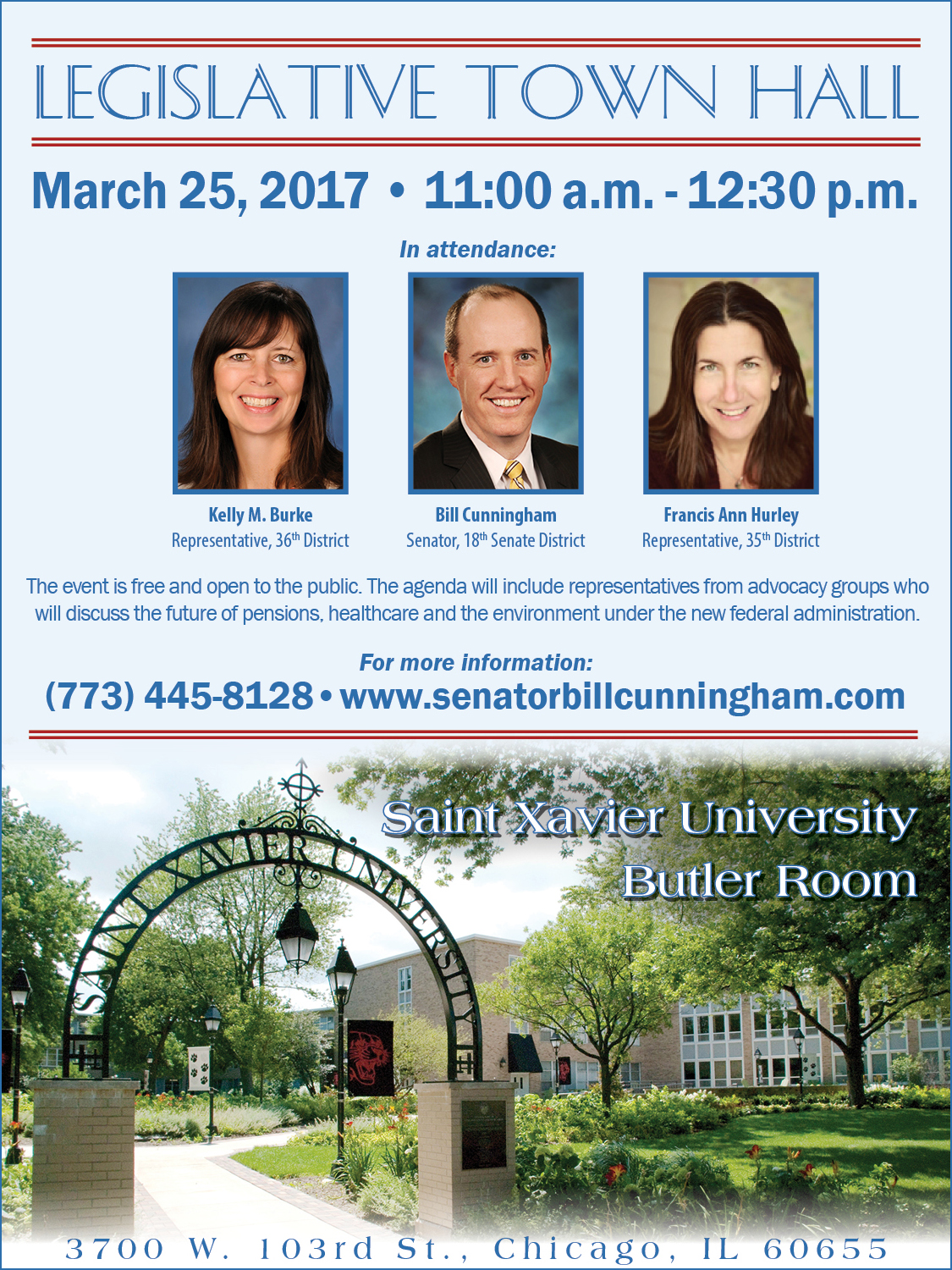 CHICAGO – State Senator Bill Cunningham, Representative Fran Hurley and Representative Kelly Burke are set to host a Legislative Townhall on Saturday, March 25 at Saint Xavier University.
"When a new federal administration starts to make changes, a lot of questions arise about how this will affect one's day to day lives," Cunningham said. "We just want to take an opportunity for people to be able to get some answers on what to expect for the next four years."
Representatives from Saint Xavier University, AARP, the Illinois Environmental Council and the Center for Tax and Budget Accountability will be in attendance to discuss the effects of the new federal administration on healthcare policy, environmental policy and pensions.
"The town hall meeting was organized in response to increasing constituent concerns about how the new federal administration would affect healthcare, pensions, and our environmental sustainability. I hope that attendees will benefit from hearing from experts and will learn about what could happen next in these uncertain times." Representative Hurley said.
The event will be in the Butler Room of Saint Xavier University from 11 A.M. to 12:30 P.M. Co-hosts for the event are Saint Xavier University and the Beverly Area Planning Association.
Click the flyer for more information. If you have any questions, contact Senator Bill Cunningham's office at (773) 445-8128.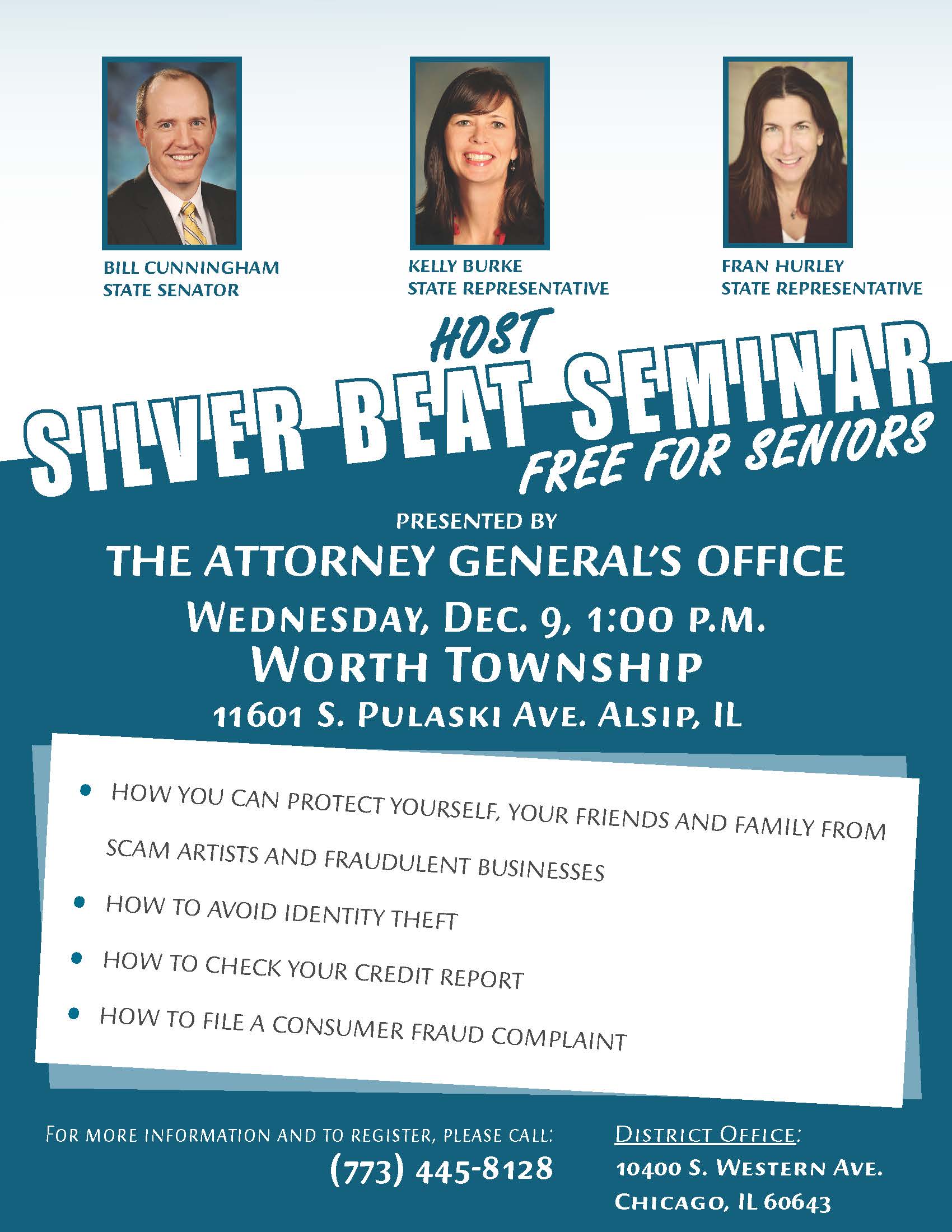 Senator Bill Cunningham (D-18), Representative Kelly Burke (D-36) and Representative Fran Hurley (D-35) are hosting a Silver Beat Seminar on Wednesday December 9 at 1:00 pm. The event will be at the Worth Township Office at 11601 S. Pulaski Ave. Alsip, IL.
The Silver Beat seminar is an educational training program created by Illinois Attorney General Lisa Madigan to ensure that seniors have the knowledge and tools they need to better protect themselves from con artists and deceptive business practices.
For more information or to register, click the flyer to the left or call (773) 445-8128.