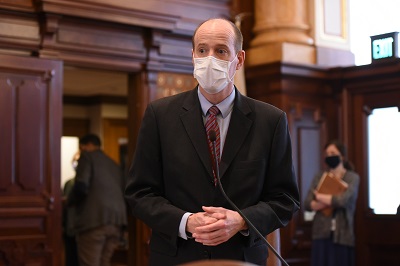 SPRINGFIELD – Senator Bill Cunningham passed legislation out of the Illinois Senate requiring insurance companies to fully cover the cost of replacing a vehicle that is totaled in an accident.
Under current Illinois law, insurance companies do not have to pay certain taxes and fees for purchase of a replacement vehicle, saddling accident victims with hundreds and sometimes thousands of dollars in unanticipated costs — even when they were not at fault in the auto accident.
"If an insurance company covers the cost of replacing your totaled vehicle, they should pay all the costs," said Cunningham, a Democrat who represents portions of Chicago and the southwest suburbs. "It's not fair to tell an accident victim that you're going to replace their vehicle and then slap them with big taxes and fees."
Current Illinois law does not require liability insurance to cover all taxes, title, and transfer fees for replacing a totaled car, truck, or SUV.
"When you drive a car, you're required to have insurance for a reason – to protect others," Cunningham said. "If you cause an accident that totals someone else's car, your insurance should cover all the costs of replacing it."
Senate Bill 61 now goes to the House for further consideration.