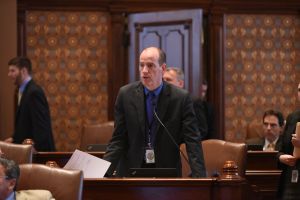 SPRINGFIELD—Legislation passed by Senator Bill Cunningham will help local police keep guns out of the hands of people who've had orders of protection issued against them.
House Bill 6331 would require the state police notify law enforcement agencies that have jurisdiction to assist in seizing a FOID card when the person's FOID card has been revoked because they were the subject of an existing order of protection.
Currently, while a FOID card could be revoked for an existing order of protection, the state police were not required to provide notice to law enforcement agencies that would have jurisdiction due to an oversight in the law.
"This loophole could have huge ramifications in our criminal justice system. We need to push this through to ensure the state police and local law enforcement are able to have and share the necessary information to protect and serve their communities," Cunningham said.
The legislation has passed both chambers and goes to the governor for approval.