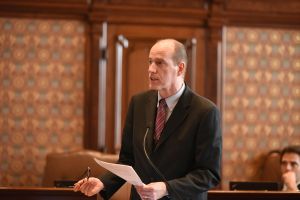 SPRINGFIELD— Senator Bill Cunningham passed legislation out of the Senate that would extend and expand the pilot program for the Accelerated Resolution Court or "Rocket Docket," a program designed to quickly move minor offenses through the court system.
"The Rocket Docket legislation has proven to be a success in helping with overcrowding while ensuring that cases are resolved in a timely manner," Cunningham said. "We don't need those with traffic violations sitting in Cook County Jail only raising costs on tax payers."
House Bill 6190 would extend the sunset date of the pilot program to June 30, 2019. This would allow for the new offenses that would be added to be utilized under this program. The new offenses that would be added would include traffic violations and some minor drug offenses.
The Cook County Sherriff would refer defendants to the program and be approved by the Cook County State's Attorney. For a defendant to be eligible they are not allowed to have any prior convictions for violent offenses within the past 10 years and must be unable to post bond.
"In contrast to jails' intended function of detaining dangerous offenders, they have devolved into warehouses for the poor and mentally ill," said Sheriff Dart. "The original Rocket Docket has succeeded in getting non-violent, low-level offenders out of jail and into the community, and this enhanced legislation will further that critical mission."
The legislation now goes to the governor for approval.