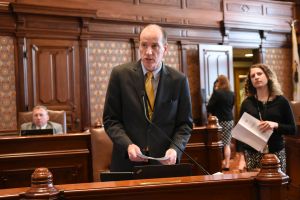 SPRINGFIELD—Hair dressers and nail technicians throughout Illinois soon will be trained to properly detect signs of domestic violence or sexual assault thanks to legislation being pushed by Senator Bill Cunningham in the Illinois Senate.
House Bill 4264 would require that cosmetologists, estheticians, nail technicians and hair braiders take a one-hour continuing education class about domestic violence and sexual assault awareness. The training will educate salon professionals about the signs of domestic violence or sexual assault as well as how to support and connect their clients with resources for help.
"When I met my wife she was working as a hair dresser to put herself through college and she would be witness to stories of abuse from clients, yet she would not know what steps to take," Cunningham said. "Ensuring more people are aware of what sexual assault or domestic violence looks like and what steps they can take to help fight against it, we can stand up and protect victims."
The legislation was introduced in the House by Representative Fran Hurley. It is an initiative of the Chicago Says No More movement.
"Our coalition is very grateful to Senator Cunningham and Representative Hurley for leading the way in a private-public alliance that will make it possible to responsibly assist a victim asking for help," said Kristie Paskvan, founder, Chicago Says No More. "We also appreciate the collaboration of Cosmetologists Chicago as we prepared our curriculum which will be presented by professionals trained in addressing domestic violence or sexual assault."
The legislation has passed the Senate and returns to the House for a final vote before going to the governor's desk.