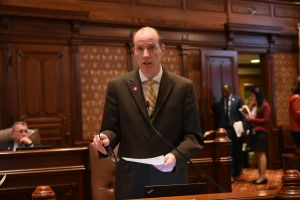 SPRINGFIELD—Senator Bill Cunningham passed legislation out of the Illinois Senate prioritizing agriculture education in the state.
Senate Bill 2975, subject to appropriation, would create a grant to fund up to 50 percent of the personnel costs for an agriculture education teacher. If a school district is creating a new agriculture education program they could receive a grant to fund 100 percent of personnel costs in their first two years and 80 percent in the third and fourth year.
"We need to prioritize agriculture in our schools. Our economy is driven by agriculture and yet so many students throughout the state have very little opportunity to learn about it," Cunningham said. "This legislation would allow schools like the Chicago High School for Agricultural Sciences to easily maintain or create agriculture education programs."
The legislation would also add agriculture education as an area of identified staff shortage which would make scholarship money available for those who want to go into agriculture education. Only 61 percent of agriculture jobs will be filled with qualified graduates in the coming years, according to the U.S. Department of Agriculture.
"We need to emphasize the careers agriculture offers, and one of those is teaching the next generation about those opportunities," Cunningham said.
The legislation now moves to the House for further consideration.