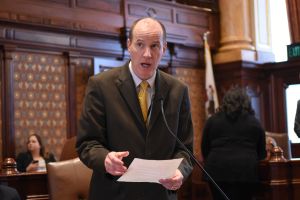 SPRINGFIELD—Senator Bill Cunningham passed a measure that would help bring justice to victims of sexual assault by ensuring police departments follow-up on potential matches on DNA test kits.
Senate Bill 2221 would require that if a police department did not follow up with the state police on a positive match, then the state police would notify the proper state's attorney. The legislation also requires that an annual inventory be taken by both the state police and local police of all DNA kits in their possession.
This legislation comes in response to a situation that occurred in the Village of Robbins, Illinois. The local police department was notified of a positive match on a DNA test kit. The department though did not follow up on the potential match.
"With an issue like sexual assault, we need to take every imaginable step to bring justice to all of these cases. The ramifications of not following up on these matches could be devastating to our criminal justice system," Cunningham said.
The legislation now moves to the House for further consideration.