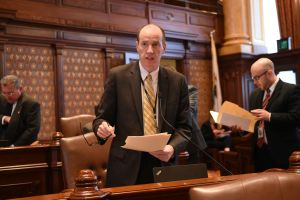 SPRINGFIELD—Senator Bill Cunningham joined colleagues in the Illinois Senate to pass legislation that would fully fund the MAP grant program for fiscal year 2016.
House Bill 4167 would appropriate $227 million for MAP grants which would fund the program for the current fiscal year. This comes at a time when many universities and community colleges fronted the students.
"The state needs to keep its promise to the neediest of students. We partially funded MAP but we all agreed that was not enough," Cunningham said. "This is our step in saying we are going to keep our promise. I hope the governor shares the General Assembly's priority in keeping our promises to our students."
The legislation would allow the governor to ensure students who were promised MAP grants are allowed to keep them.